Mission Statement: Health Watch USAsm is a 501C3 organization which promotes high quality affordable healthcare through transparency, competition, provider education, patient advocacy and the promotion of research integrity.
Position Statements:

#1. To promote health care transparency, the public should have readily available to them in an easily discernible, reliable and comparable format.
The incidence of never events as defined by Medicare and the national quality forum.

The incidents of health care acquired infections at facilities.

Costs of Healthcare Services.
#2. With the advent of healthcare integration, hospital governance and quality issues arise because of the loss of medical staff independence. Hospital Boards thus take an active role in quality oversight. Board members should be trained in patient advocacy and all boards should have community members without a conflict of interest with the facility.
#3. To promote competition, the Kentucky Certificate of Need should be revised:
To assure the availability of providers in needed areas.

To assure market forces are present in regions with for-profit monopolies.
#4. To promote patient advocacy, mechanisms need to be in place to assure proper nursing staffing of facilities and staffing levels should be readily available to the public. Staffing ratios if implemented should be minimum ratios and not mandatory upper limits.
#5 To promote patient safety HW USA has submitted the following to the National Quality Forum for consideration of including in their serious reportable events.
"Incorrect Placement of a Feeding (Gastrointestinal) or Ventilation Tube Which Results in Patient Harm."
#6. To promote patient advocacy, HW USA supports strong protection of healthcare whistleblowers.
#7. To promote patient advocacy, there must be protection for healthcare providers to discuss quality and cost information with patients and patient medical decision makers without fear of reprisals or sanctions from their employers.
#8. Consumers and state agencies, who pay for health care, should not be required to reimburse healthcare facilities for largely preventable adverse outcomes as defined by Medicare and National Quality Forum's Serious Reportable Events.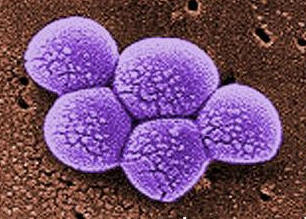 The picture on the right is a photomicrograph of
Methicillin-resistant Staphylococcus Aureus (MRSA).